Arrested Development: European Tour 2022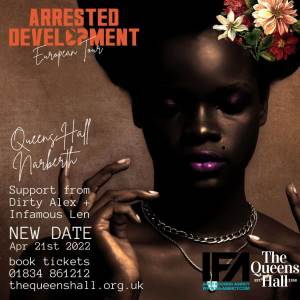 Doors 7:30pm
The two-time Grammy-winning hip hop band ARRESTED DEVELOPMENT are back after releasing a new album titled 'Dont Fight Your Demons' in September last year. As you would expect with an Arrested Development album it achieved widespread acclaim for being thought-provoking and extremely topical in times full of political and societal issues and now they are touring with their FULL BAND accross Europe.
We are exceptionally fortunate to secure a date on their European Tour and you do NOT want to miss out... Arrested Development will perform some of their biggest hits AND new material, delivering an onstage energy to thirsty audiences looking to quench their soul!
It's been more than 20 years since they slammed the gangsta dominated world of hip hop with defiant lyrics of hope. The World was ready for change as AD became the first hip hop artist to receive the 'Best New Artist' Grammy and the Grammy award for 'best rap single' for their anthemic prayer-like hit song, TENNESSEE.
They used their voices and their status to benefit of many underprivileged brothers ans sisters around the World. With the success of the single Mr Wendal, Arrested Development brought the issue of homelessness to the forefront. The group donated half their royalty earnings from Mr Wendal to the National Coalition of the Homeless in USA.
Their album, 3 YEARS, 5 MONTHS AND 2 DAYS IN THE LIFE OF..., sold over 4 million units, with singles from that maiden voyage playing like a soundtrack in the lives' of so many people worldwide.
Support from Dirty Alex
Blend 4 parts Jazz musicians, 3 measures overproof Hiphop emcees and 1 shot of soul. That's Dirty Alex. A Cardiff based hip-hop/Jazz collective hugely inspired by Guru's 1993 album 'Jazzmatazz'.
DJ support from Infamous Len
Tickets: £20 + £1 booking fee
Under 16's (MUST be accompanied by a paying adult)