Big Community Soup + Community Clean-up
Wed, 20 Jul 2022 - Presented by: The Queens Hall
This is a Standing Event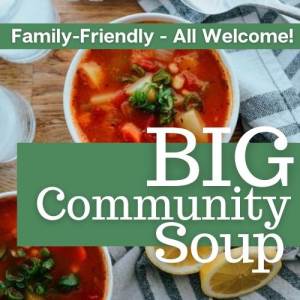 Join us at the Queens Hall Narberth, at 1pm on 20th July 2022 to enjoy a delicious bowl of vegan soup cooked using local surplus food.
After lunch, collect a litter-picker and other cleaning equipment to help spruce up Narberth ready for summer. Meet back at the Hall, at 3pm, for a hot drink/cold squash!
This is a completely free, family-friendly event.
Everyone is welcome and it'll be a great opportunity to meet up with people in our community after a tough couple of years! We are looking forward to seeing you all
Thank you to the Community ChangeMaker Fund for helping us put on this community event