Chasing The Moon: Storyteller Deb Winter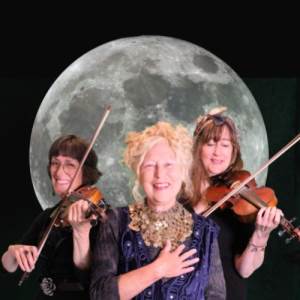 Wrap a silver-tongued storyteller round with sweet and strange sounds and you have an evening of enthralling tales woven with entrancing music.
Storyteller Deb Winter leads you to unexpected places and ambushes you with moments of surprise and delight as we travel in the strange land of her imagination. Kind lies, impossible tasks and a brave heart lead young Aixa into danger as she 'chases the moon' in the middle east; whilst back in medieval Wales two men see something few have ever seen.
Versatile violinists Jayne O'Hara and Barney Griffiths draw you into Deb's strange world with alluring music and original improvisations that make the stories glisten with magic.
The show is primarily aimed at adults, but suitable for 10+. TIckets for children aged between 10 and 16 are £7 + BF.
Over 65 tickets are £10 + BF.