Christmas Lampshade-Making Workshop - November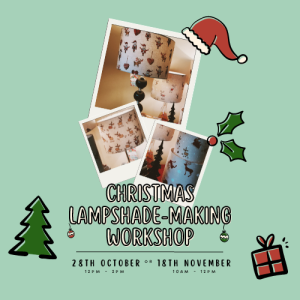 Why not light up the room with this class as you make your own lampshade? And no worries - no previous skills required.
This workshop is a fantastic way to learn how to make a Christmas lampshade. We provide the wire base, drum and Christmas fabric or you can bring your own fabric, so that you can add that personal touch to any room with your own design.
Wendy will be on hand to advise on any light touches along the way - with loads of tips for first-timers.
You can either;
construct a lampshade from scratch to attach to a base or hang from a ceiling
Upcycle other lamps at home
We'll send you home with your finished creation and a new passion for creating your own home accessories.
Tea, coffee and cake included.
Pre-booking advised. To book, call Wendy on 07971239272