Dutty Moonshine Big Band - Villain Tour 2023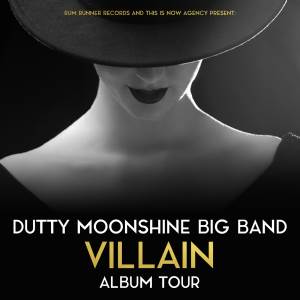 Tickets now Sold Out
Doors 7:30pm
The 12-piece force of nature that is the Dutty Moonshine Big Band are embarking on their biggest venture yet; an 18-date tour to coincide with their brand new and 100% independently released album!
Autumn 2023 will see the dirty dozen dropping their latest LP "Villain".
"Villain" is an album the band have spent the better part of 3-years writing, honing and perfecting their signature sound of heavy dance music meets bombastic brass. A sound like none other; a sound that has helped propel the Bristol based band to dizzy heights.
With a Summer packed full of festival headline slots and main stage appearances; you can bet your bottom dollar that one of the UK's biggest and best live dance acts are going to be raring to go to continue their ground-shaking performances right through to the Autumn tour.
With the aim of charting "Villain" higher than their sophomore record, the band would love to invite all fans and followers to visit their website and support their mission of breaking the charts once more
Featuring support from blues influenced hip-hop, Applied Science. The Welsh speaker-shakers bring a hard-hitting sound boasting inimitable, raw delivery in a potent mix of highly charged beats with a side of belligerence.
16+ under 18s to be accompanied by an adult