Benny Page & Dope Ammo- Dubshotta x Dope Ammo Records Takeover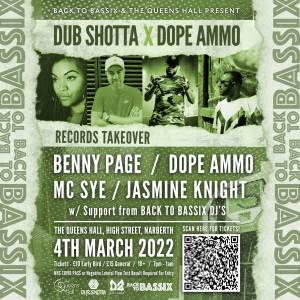 Tickets now only available on the door
Join us on March 4th as we welcome the Dubshotta & Dope Ammo Records takeover to the Queens Hall
Benny Page returns to Pembrokeshire with his signature style, accompanied by MC Sye, both renowned for holding down the dancefloor, bringing huge energy and unmatched vibes. With a massive catalog of tunes, featuring heavily on Jungle Cakes, Born on Road Dubshotta, and more, expect the unexpected with massive original tunes as well as huge DnB & Jungle flips on a number of anthems.
Dope Ammo will make his Pembrokeshire debut alongside Benny & Sye, showcasing his label Dope Ammo Recordings. With an obvious influence inspired by 90s rave and jungle, this selecta mixes classic and modern sound together honoring both whilst keeping it fresh. Dope Ammo is a staple of Drum & Bass lineups up and down the country, going from strength to strength with each release.
Jasmine Knight's passion for the underground sounds runs deep, which heavily influences her sound, vocal styling and song writing. Over the years, Jasmine became an important player in the UK underground Drum n Bass and House scene ever since her teenage years and now collaborating with incredibly talented producers from all over the world and in a wide range of genres within the dance music scene. Jasmine's style is a delicate balance of the underground influences, but with a knack for writing songs worthy of the mainstream charts.
Back to Bassix DJ's will be holding down the support from the night. Having hosted event's with some large headliners in the past, the 4th of March will be their return to large events. Having been on the scene for the best part of the last decade, and having an eclectic roster of local DJ's at their disposal, from up and coming DJs to established local names, their reputation for bringing the party to you has only grown over the years, bringing their passion for the music straight to the bassbins.
Late Knight, Rob Why? & One_Z will be your local representatives and warming up the speakers for this superstar lineup.
Tickets available now!
18+ ID REQUIRED
19:00-01:00
Ticket Price
Early Bird Tickets £10 + £1 Booking Fee (now ended)
Second Release £15 + £1 Booking Fee
Final Release £20 + £1 Booking Fee