Metallica Reloaded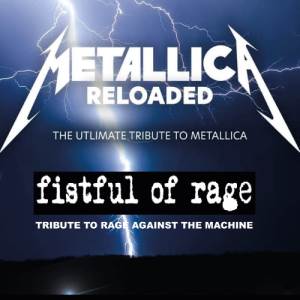 Metallica Reloaded originating from Bristol UK in 2010 are made up of 4 musicians (Wayne, John, Jay and Daz). They always strive to give the audience what they want in every performance delivering the ultimate Metallica sound and high octane show leaving fans wanting more every time. They recreate the same set and show that Metallica currently tour.
With over 50 years gigging experience amongst them, Metallica Reloaded are very skilled musicians that take their approach and sound very seriously, using exactly the same guitars and musical equipment as Metallica themselves.
Metallica Reloaded have become a firm regular in the UK's best music venues along with festival appearances at the famous tribute festival Glastonbuget 2014, 2017, 2018. With ESP Guitars and EMG Pickups backing, Daz Towner who plays Kirk Hammett and Wayne Wilmut who plays James Hetfield are providing superb accurate riffing that if you closed your eyes you would like think its James and Kirk themselves. Metallica Reloaded are looking to light up audiences again in 2023.
Support From
Fistful of Rage: Wales' premier tribute to the one and only Rage Against The Machine!