Whole Lotta Led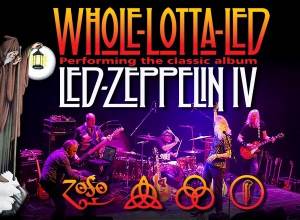 Whole Lotta Led- THE UK'S LEADING TRIBUTE TO LED ZEPPELIN
Whole Lotta Led performing the classic album Led Zeppelin IV
On 19th November 1971 Led Zeppelin released what was to become one of the greatest albums of all time - Led Zeppelin IV. Over the next few months Whole Lotta Led will be performing a few of their special Led Zeppelin IV shows to celebrate this incredible album.
Led Zeppelin IV is unquestionably one of the greatest albums of all time, containing an astonishing range of musical styles, from the dirty blues of 'When The Levee Breaks', to the sublime 'Going To California' and not forgetting the all time classic 'Stairway To Heaven'.
The first half of this special show will consist of a selection of songs from Led Zeppelin's vast back catalogue. The second half features the whole of Led Zeppelin IV played in the same sequence as the original LP.
It is three years since the band last performed any Led Zeppelin IV shows and they always prove hugely successful and incredibly popular, for this reason we suggest you book tickets as soon as possible to avoid disappointment.
"You're getting great revues, I wish you all the best" JIMMY PAGE
NO WIGS • NO COSTUMES • JUST MUSIC
Whole Lotta Led are the longest running, full-time professional tribute to Led Zeppelin.
With twenty years under their belt Whole Lotta Led have good cause to celebrate. Come and join them on their 20th Anniversary Tour and enjoy five professional musicians perform the incredibly diverse and exciting music of Led Zeppelin.
You won't be disappointed.
Photography: © Neil Jarvis
Youtube: https://www.youtube.com/watch?v=MyMt4e384Lw