Whole Lotta Led - 2022 Farewell Tour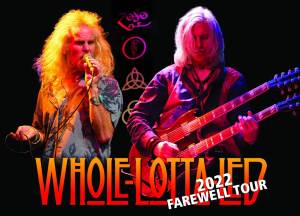 Whole Lotta Led are coming to The Queens Hall this November with their brand new show for 2022 as part of their Farewell Tour of the UK.
Since their formation in 1996 the band have continually led the field of Zep tributes and with over 1,600 shows to their name they have performed 'Stairway To Heaven' more than any other band in the world - INCLUDING Led Zeppelin.
Don't miss this last chance to celebrate the music of Led Zeppelin, performed live with dedication and passion by Whole Lotta Led.
"You're getting great reviews, I wish you all the best" JIMMY PAGE
Tickets
Advance Tickets: £19 + £1 Booking Fee
Door Tickets: £24 + Booking Fee