Ragsy - 10th Year Anniversary Concert
Fri, 02 Feb 2024 - Presented by: The Queens Hall
This is a Seated Event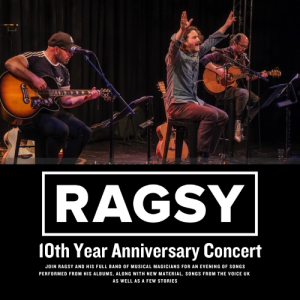 Ragsy, is a Welsh singer-songwriter who appeared on The Voice UK in 2013 and was mentored by fellow countryman Sir Tom Jones.
Over the years he has recorded several albums, with songs from these album's such as 'Ouch!!' and 'One More For The Road' receiving airplay across the world by various radio stations including BBC Radio Wales.
This years marks 10 years since he appeared on the show and the start of his music journey, and he will be performing at The Queens Hall Narberth with a full band to commemorate this significant moment.
Performing songs from both albums, new material and songs from the show as well as tell a few stories Along the way.
With thanks to the Arts Council Wales Night Out Scheme for supporting this event
Family-friendly seated show
Concessions include over 65's and those from low income households