Rasha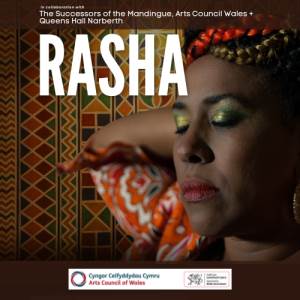 In collaboration with The Successors of the Mandingue we are excited to announce that Sudanese artist Rasha and her 5 piece band will be joining us from Spain on Friday 9th June with thanks to Arts Council Wales.
Rasha is a Sudanese singer, musician and songwriter who has had a global presence in the international music scene for over 30 years. Rasha's unique style comes from her desire to share the beauty and traditions of the diverse music from Sudan with her own contemporary twists making it accessible to everyone the world over.
Rasha's music is a fascinating amalgamation of styles including the centuries old musical traditions of the Nubian culture, rhythms of central Sudan, the tom-tom beats of the African Sahel, echoes and influences of North African, Arabic and Andalusian (flamenco) sounds, and jazz. Through her career Rasha has collaborated with Youssou N'Dour, K'naan, Geoffrey Oryema amongst many others.
Rasha emigrated to Spain in 1991 to escape the volatile political situation in her native Sudan. It was in Spain that Rasha began work on the critically acclaimed album, Sudaniyat (named by fRoots editor Ian Anderson as One of the 10 best of 1997). This album brings together the diversity of Sudanese music, ranging from Arabic poetry, sufi music and even touches of reggae.
Concession tickets for those over 65 years of age, and for those in low income households. For more information, call Box Office on 01834 861212
Doors 7pm