The Curious Cabaret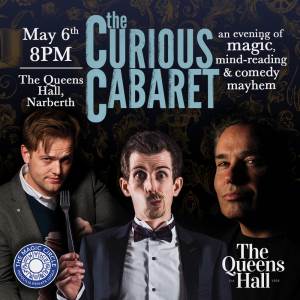 Doors 7:30pm
A show that combines magic and comedy starring Members of London's prestigious Magic Circle. Featuring Comedy Magic and Mayhem from trickster Tom Wright, Artistic Magic and Mind- Reading from World Champion of Parlour Magic (Beijing, 2009), Marc Oberon, and the Magical Buffoonery from your host for the evening, Chris Wilder.
Welcome...to The Curious Cabaret!
WHAT TO EXPECT
The Curious Cabaret showcases different magicians from around the UK who excel in their areas of magical expertise, demonstrating feats of mind reading, sleight of hand and visual magic, comedy, escapology and illusion.
The show lasts 2 hours, including a 20 minute interval. The show is designed for adults but suitable for children aged 12 and up provided they are accompanied by a guardian.
Throughout the evening you can expect to be amazed and astounded, enjoy fits of laughter, and find yourself asking 'how'?
Background
The Curious Cabaret is an evening of magic and comedy, created and hosted by Chris Wilder, Member of the Magic Circle, and featuring some of the UK's top magicians. The show has a monthly residency in Nottingham and contains visual and artistic sleight of hand, mind reading, and comedy throughout. The show runs for approximately 2 hours, including a 20 minute interval and attracts audiences ranging in age from 18-65.
From 2022, the show has started to expand, producing shows in other parts of the UK and attracting a wider range of talented performers, that include magicians, variety artists, and burlesque artists, from around the UK.
Tickets: £20 + £1 Booking Fee