Zumba Mornings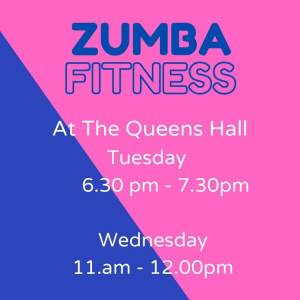 The hugely popular Zumba classes ran by Tracey Keane in the Queens Hall have proved so popular, she now holds a morning class.
This session is still pumped up and designed to get your blood pumping and feet tapping as Tracey holds an hour and 15 minute session of zumba fitness to get you into shape.
The classes are designed for everyone from complete beginners who need to get fit, through to regular zumba attendees.
If you have any questions on the classes or are nervous in attending but would like to join. Tracey welcomes everyone and can help ease you into the class.
Zumba is a total body workout and helps you tone in a great way. For more questions, get in touch with us here at The Queens Hall.
Classes: £5.00 each