INVITATION: The Queens Hall Narberth AGM on 6th July 2022 at 7pm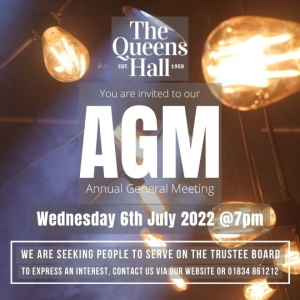 We are looking forward to welcoming you and sharing what we have managed to achieve during these difficult past months, and what we have planned for 2022/23 and beyond.
We are also looking for new people with a few hours to spare each month to serve on the Trustee Board.
Do you have;
A passion and/or experience in Live Music, Theatre & Comedy
Experience in Community Projects and events
Experience of fundraising and/or funding bids
Marketing experience in particular in the Arts
We welcome all applications from the community with those with the capacity and interest to become a Trustee.
We particularly welcome applications from members of the community who are traditionally under-represented in Governance roles, including those who are 18-25 years old, or those with protected characteristics, in particular women, those from ethnic minority communities, those identifying as trans /non-binary and those with disabilities.
We are also actively seeking Welsh Speakers to join the Trustee Board.
If you would like to attend, to express an interest or to get more information on what the role involves, send us an email via Contact Us page or call 01834 861212