Jethro's Back in Narberth in 2017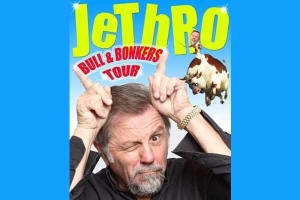 Jethro is here on 23rd February 2017. Dont leave it too late to get your tickets!
Originally a "Timber Man" from Levant Tin Mine, Jethro will be performing with nothing more than a microphone, a stand and a small table with his favourite drink to hand.
Selling over 4 Million DVD's isnt it about time you came and experienced some serious nonsensical twaddle!
Jethro's jokes aren't complicated, he is the first to call them silly and daft but its the pictures he paints that have you and him laughing before he even gets to the punchline.
Who else could tell the joke that made his name on the Des o'Connor Show?
It was by pure chance he told it. He'd rehearsed and honed his act but because he was going down so well Des lengthened his interview. 'The only thing I could think of clean enough for television was the train at Cambourne'.................