Level Zero: Keeping you safe at The Queens Hall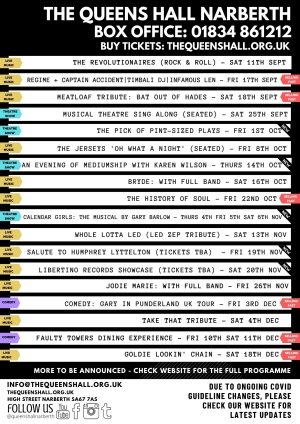 On behalf of all the Staff, Volunteers and Trustees at The Queens Hall Narberth, a huge thank you to all who have supported us since our last gig back in February 2020.
We come with good news… We are BACK with full capacity live events!
This is very exciting and will be so very close to how we remember it, but there WILL be a few differences that need adhering to. Ultimately, our return to full capacity live events has to be done safely, and fully in line with Welsh Government guidance for Alert Level Zero (guidance HERE & HERE ) so please ensure you read these key points before you attend.
What we ask of you
SYMPTOMS.
Please don't attend if you have any Covid-like symptoms, if you have tested positive for Covid or if you have been asked to self-isolate.
TAKE A TEST.
We strongly request you take a Lateral Flow Test before you attend the venue. We will not exclude anyone who doesn't, but taking an LFT before attending helps us to protect our staff, our volunteers and audience members. All the QH Team and artists performing at the venue will be strongly encouraged to do the same. You can request free LFT tests from www.gov.uk/order-coronavirus-rapid-lateral-flow-tests
BE KIND.
We are a community organisation and we will always do our best for our audiences but please remember these initial full capacity events are our first in 18 months. It is as new for us as it is for you; Be patient with us and respect our staff and volunteers. Hospitality is already a difficult job being made harder for our wonderful, hardworking staff so please be nice or be prepared to be asked to leave.
RESPECT EACH OTHER.
Be respectful of each other and each others right to be cautious; do not cause drama about peoples choices within the venue. – if you would like to wear a mask, please do so. If you feel you need space, please step back from the crowd and take a breather outside if you need to - our wristband system means you are able to come back in again without any issues. Remember, manners cost nothing! If you are unable to be polite to other gig-goers then again, be prepared to be asked to leave.
TICKETS.
Tickets bought in advance significantly speed up entry so if you can, purchase your ticket in advance via our website or call Box Office on 01834 861212. If an event is not sold out, we will release 'on-the-door' tickets but you will be required to give your contact details to gain entry for the purposes of Track & Trace.
What you can expect from us
VENTILATION.
We have enhanced the mechanical ventilation system in the Hall and the bar. We will also further enhance ventilation before, after and in between acts by opening doors and windows; a simple but very effective method of reducing risk of aerosol transmission.
We will also be actively monitoring CO2 levels throughout events to assess air quality and ensure that air flow remains at an optimum level.
CLEANING.
Our current enhanced cleaning regime will remain in place which includes regular cleaning of touch points. We also disinfect the venue before and after each event using a fogging machine and a solution which kills 99.99% of all airborne pathogens including Coronavirus.
As always, we have hand sanitizer stations throughout the venue and we have installed additional hand basins in the toilets, as well as HEPA filter hand driers which kill 99.99% of known pathogens including Coronavirus.
BOX OFFICE.
We have a new no-touch Box Office ticket scanning system – please arrive with your tickets ready to scan by Box Office staff.
CARD & CONTACTLESS PAYMENT.
Our new Bar Dispense system, extra new tills and more/faster card machines, means queue-time at the bar has been significantly reduced.
REFUNDS.
If you have Covid-19, we will provide a refund. All you have to do is contact us BEFORE the event and provide us with evidence of a recent positive Covid test.