Narberth Market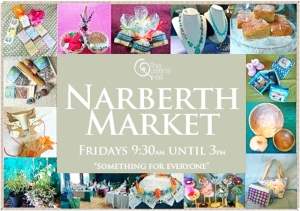 Narberth Market at The Queens Hall Narberth
EVERY Friday from 9:30am until 3pm
Regular concessions include:-
Dolwerdd, a ewes milk cheese company from the Preselis. Their range of cheeses includes a blue cheese, a brie-style cheese, Halumi and much more.
The wool from the sheep is used to produce award-winning fleece and handspun yarns.
Carrigans has a range of unusual Perennial Plants for sale which are grown at home. At the Market Laura can be seen to paint her Carrigans Christmas Decorations on wood and Welsh Slate, items can be personalised at no extra charge on the day.
Rhydlewis Smokery from Llandysul specialises in smoked salmon and trout and they also have a delicious range of smoked cheeses and bacon, all locally produced.
Wenallt Hive, Marion from Wenallt brings a whole host of bee products to the market; as well as honey, there are candles, honey fudge, honey Bara Brith, skin care products. Then on her way to market, she picks up fresh local bread and produce as well.
The Really Nice soap company produces natural soaps and natural soya wax candles, beautifully presented in ornate teacups. The soaps are made using the cold press method and suitable for all skin types.
Helen from Chiffon produces an array of vintage-style accessories and makes bespoke clothing for children and adults to order. The stall is adorned in beautifully handcrafted notebook covers, cushions, clothes, fascinator and vintage pictures and cards.
Ragamuffins Wales are based in the heart of Pembrokeshire and Chris and her sister produce individually handcrafted items ranging from jewellery to cushions, cards and beyond.
Sarah Cooks is an award-winning producer of a range of preserves, chutneys, curds and marmalade, all made from locally sourced ingredients where ever possible.
If you are a local trader who would like to get involved with the Market and showcase your homemade products to sell to the public, what better place to start than a well established and popular, weekly local market in the well-known venue of the Queens Hall. What are you waiting for?. Visit the Market at the Queens Hall - Every Friday