New equipment with support from Port of Milford Haven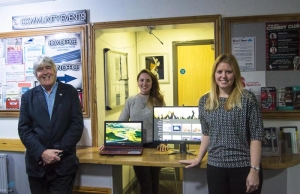 Thanks to the Port of Milford Haven, The Queens Hall recently received a grant enabling us to purchase a well-needed laptop and monitor for the use of our intern that has recently began her placement at the hall.
The laptop is now a key asset to us here at the Queens Hall as it enables us to sell tickets, work portably around the venue and work amongst the events as they take place. In addition to being a convenient device, the laptop has increased our level of efficiency as we are able to work effectively on a day-to-day basis.
The hall is absolutely thrilled to have secured the money from Port of Milford Haven in addition to having a third year event and festival management student as an intern for the duration of six months.
These factors will enable us as an organisation to improve the way in which we manage and market events to clients, promoters and sponsors. This improvement will subsequently lead to the possibility of attracting bigger and better acts to the venue.
This is an element that has always posed as a struggle to The Queens Hall due to our previous lack of sufficient volunteers and resources.
As a way of thanks and to show the kind support from the Port of Milford Haven. You will notice their sponsorship notice and logo on all event tickets purchased through our website.