Queens Hall Gift Ideas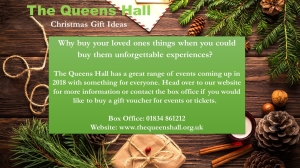 Stuck for ideas on what Christmas gifts to get your loved ones? We have the perfect thing for you.With a full 2018 programme, the Queens Hall has something for everyone next year! Get in contact to buy gift vouchers or tickets, the perfect gift for anyone!
With 2018 just around the corner, we can't help but get excited for what the new year has in store. Here at The Queens Hall, we have an amazing variety of events heading your way. We have live music, comedy clubs, famous psychics, tributes, children's theatre, film clubs, markets and more all making an appearance in our 2018 brochure.
Helping you light up your new year in style, Span Arts presents its annual Aquarian Party with headline act; the Freestylers! After a 15-year career, the Freestylers have covered a full 360 degrees in the Bass music genre, having played all the biggest festivals and most talked about nightclubs around the world, even the quintessentially British music show, Top of The Pops.
2018 will also see the return of Span Arts Infamous Comedy Club with comedians such as Lloyd Langford, Paul McCaffrey and Jayde Adams making an appearance on the bill.
Famous psychic; Derek Acorah will be returning to the hall in 2018 following his previously sold out shows at The Queens Hall. Following his captivating appearance on Celebrity Big Brother 2017, which saw a phenomenal run to the final, Britain's best loved, and most entertaining, medium; Derek Acorah returns to the Queens Hall stage with his all new 'Love, Life, Laughter Tour'. As a thoroughly modern medium whose appeal crosses the generations to young and old alike, he remains the forerunner in the field of paranormal and spiritual matters.
The cherry on the top of our 2018 programme? We are pleased to bring to Narberth the REAL sixties band; The Searchers, whose remarkable career continues today. With classic hits such as; Sweets For My Sweet, Needles and Pins, Don't Throw Your Love Away and Sugar and Spice, they have contributed enormously to establishing the UK as the world's leading nation in the music industry. With total record sales in excess of 50 million, The Searchers still have great appeal to audiences of all ages.
With these being only a few of the events that we have on offer in 2018, you can imagine why we are so excited for what is to come. To find out more about all of our upcoming events, take a look through our 'what's on' page and purchase your tickets while you still can!
Merry Christmas and a Happy New Year to you all!
The Queens Hall Team.