Queens Hall refurbishment appeal launched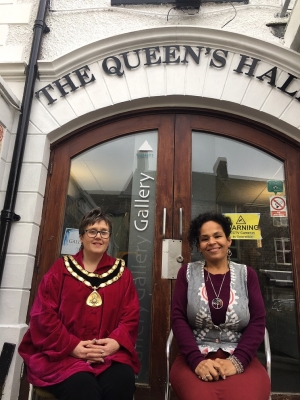 Queens Hall, Narberth, is entering its seventh decade by launching an ambitious refurbishment appeal.
The popular events and community hall – which was established in 1958 – is looking to upgrade its facilities with sustainable lighting and heating, new flooring and an interior facelift.
The charity-run venue has an illustrious history, hosting a variety of bands and singers that went on to become household names.
In the late 60s and 70s it showcased such stars at Elton John, Desmond Dekker, Dr Feelgood and Alan Price
In the 90s it was rebuilt with its frontage remodelled and the second storey – which now houses the art gallery – added.
But in order to ensure the hall continues into the 21st century it needs some substantial investment.
Manager Sue Lewis said: "The hall has been well loved over the years, but like any well-used facility it is beginning to show signs of wear and tear. We are looking for grants to help us refurbish the hall and bring it up to date."
And she added: "Any funders will want to see that a project is supported by the community – that is why we are launching a refurbishment appeal and we need your support."
Hall users are being asked for their opinion on how the hall can be improved and anyone who has any stories or memories about the Queens Hall in its heyday are asked to get in touch with Sue at the Queens Hall
Chair of trustees Molara Awen said: "Having performed at The Queens Hall since the late 1990's with Zion Train, Powersteppers, Baka Beyond and many A Cappella and community projects, it's such an important part of my and our collective local culture. Whether we come for dance, for music, for art, any number of community groups, or just a cuppa in the cafe, without her Pembrokeshire will have lost a diamond - we just need to make her shine again!"
The hall will be running various fundraising events throughout the year culminating in a grand gala concert on October 5 starring talented Clynderwen singer Trystan Llyr Griffiths and the Llanelli Male Voice choir. Tickets are on sale now at www.thequeenshall.org.uk.
Picture: Queens Hall Trust chair Molara Awen with town mayor Cllr Elizabeth Rogers pictured outside the hall.