Queens Hall rock memories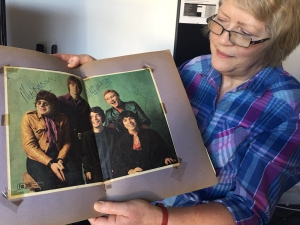 IT'S 1966 and 14-year-old Janet Rowlands has seen something life-changing.
Top pop band Amen Corner played at the Queens Hall, Narberth, and the young teenager was one of hundreds of local youngsters who were completely spellbound.
"It was simply amazing," said Janet (now Mason) of Narberth Bridge. "The hall was packed, it was so hot that condensation was dripping off the ceiling. There were about 1,000 people in the hall – no health and safety then of course. We just couldn't believe our luck that these bands who had been playing in London were playing here in Narberth!"
The bands – which included such names as Status Quo, Deep Purple and the Average White Band - were brought to the town as part of fundraising efforts by the local football club, led by the far-sighted Ivor Badham.
Over the next few years Janet took advantage of the roll call of rock bands that graced the Queens Hall stage, compiling a scrap book with tickets, flyers and autographs plus momentos such as Rick Parfitt's guitar string.
"My husband has always been on at me that I'm a hoarder, but now I'm glad I kept the scrapbook," said Janet, who is supporting the Queens Hall £500k refurbishment bid.
One of her favourite memories is Ivor Badham popping into the local accountants where she worked and asking which band she'd like to see play at the Queens Hall.
"I said Love Affair and a few weeks later Ivor came over to see me and said he'd got them! I was so excited but when they came to Narberth I was ill in hospital and couldn't get to see them. Ivor came to see me in hospital and gave me a picture with their autographs – I was thrilled."
The most memorable act she saw was Hot Chocolate.
"I remember the lead singer Errol Brown, he was dressed in a patterned silk outift with a mandarin collar and when he sang he dropped to his knees – I couldn't keep my eyes off him!"
Do you have any souvenirs from the Queens Hall's glory years? Let us know – contact manager Sue Lewis at manager@thequeenshall.org.uk
Pictures: Janet Mason with her autographed picture of Love Affair