Roy Chubby Brown is coming to Narberth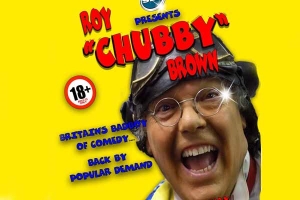 My life on and around the council estate was like most of the people,there was honour amongst thieves, my mother left home when I was nine to live with some guy who came to fix the washer! A brief insight in to Roy's childhood.
Roy thought his life would be a life of crime, detention centres,borstal and then prison, as in those days it was easy to become an arsehole in that enviroment.
However Roy joined a band, but was more intersted in comedy,and was on New Faces and Opportunity Knocks as Alcock and Brown; and started on his own at Jollies Stoke-on-Trent in 1976!
Roy is here on the 18th May 2017 and reminds us 'Don't forget I am an old school comic and believe there shouldn't be any boundaries in comedy, so if you are easily offended, please stay away. But on the otherhand if you want a really good laugh, check out the 18th May and buy a ticket'!