Supersonic Seventies Show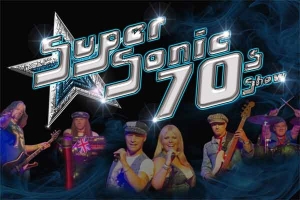 IT'S THE HOTTEST TICKET IN TOWN!The most explosive show in theatreland. An incredible live show so jam packed with classic seventies hits its no wonder its been described as " the best 70's show of its kind-West-End quality"
Led by the "Catsuit Wondergirl" Janey Bombshell, Supersonic Seventies will take you back to when Pop was at its peak. From the towering majesty of Queen,ELO and Carpenters, the pin-up pop of The Osmonds,David Essex and David Cassidy, and the foot stomping Glam Rock of Sweet, Mud, and T-Rex.
Now add the classic sounds of Saturday Night Fever and Grease, and even those winning UK Eurovision hits and with humour a plenty you have a sensational show simply too good to miss.
At The Queens Hall April1st 2017