The chart-topping Searchers come to Narberth!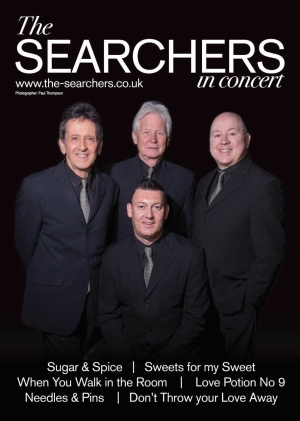 The Queens Hall are absolutely thrilled to welcome the one and only, chart topping Searchers to Narberth on the 31st of May 2018 for a legendary and unforgettable evening.
After 55 years of non stop touring you would imagine that a group like the Searchers would be either ready to finally hang up their high button black stage suits or at least severely trim their punishing schedule. In fact the last year`s datesheet of one hundred and fifty shows is already a cut back on their reg ular run of two hundred plus concerts a year. And stop? Looking at the dates ahead of them there is precious little chance of that in the near future.And if they did it would not be due to a dip in their popularity. The last months of 2017 saw them closing the show as a headline act on all star bill that also boasted Gerry & The Pacemakers, The Tremeloes, Love Affair vocalist Steve Ellis and Vanity Fare and which sold out almost every one of the performances. Far from losing any of their following it proved to be the most successful sixties package of the last two decades with the vast Royal Concert Hall in Glasgow not only having to sell the orchestra seats set high up behind the performers but also obtaining special permission to make standing room only spaces available, a first for this kind of show at that very prestigious venue.

Original Searcher John McNally (he formed the Liverpool based band in the fifties) having been laid low by a stroke was forced to rest for that Sixties Gold Tour but such a trifling problem was not going to have him sitting at home for long and by the end of the year and after only a three month lay off for what could have been a life threatening situation, he was back on stage and pounding out the hits again, much to the relief of his devoted admirers.

The Searchers were formed in the late fifties as a skiffle group by John McNally who was quickly joined by guitarist Mike Pender, drummer Chris Curtis and bassist Tony Jackson. With the addition of lead vocalist Johnny Sandon they soon grew into a solid five piece unit who commanded an impressive following in their home town of Liverpool and rated high in the local rankings. When Sandon left the outfit in 1962 the remaining four quit their jobs in order to take up the offer of a short residency at the famous Star Club in Hamburg playing alongside The Beatles, Gerry & The Pacemakers and a host of other beat groups trying to make their mark in the world of youth music.

When The Beatles started the storm that became tagged Merseybeat The Searchers took their chance in the middle of 1963 and under the guidance of PYE Records` Tony Hatch shot to number one in the charts with their debut disc Sweets For My Sweet, quickly followed by a sound-a-like tune penned by Hatch, Sugar & Spice and a third though slightly less successful Someday We`re Gonna Love Again. The lead vocal had been taken by Tony Jackson but for the third single the style changed to a softer and more harmonic sound for Needles & Pins and then Don`t throw Your Love away. A disillusioned Jackson was unhappy at what he saw as a demotion and in the middle of 1964 departed for a solo career. His place was quickly filled by Frank Allen, a London based musician they had made firm friends with in Hamburg where he was a member of Cliff Bennett & The Rebel Rousers.
The new lineup went straight into the studios and emerged with the classic When You Walk In The Room, a release that was to prove one of the band`s most enduring records and which has proved to be unbeatable in a live situation. The run of hits continued with much loved songs like Goodbye My Love, What Have They done To The Rain? Take Me For What I`m Worth, Bumble Bee (a U.S and Australian hit), Love Potion Number Nine (their biggest American success)and others.By this time the group had started to feature heavily the electric 12 string guitar which became the definitive instrumental sound of the Searchers.

Drummer Chris Curtis, arguably the star of their stage performances with his stand-up stance behind the kit, was the next to leave after a tour with The Rolling Stones across Australia in 1966. There were to be four more changes on drums through to the present day but the band surmounted these small obstacles with a relative ease. A tougher task was the departure of Pender at the end of 1985 and the ensuing court cases over the group`s name, cases in which John McNally and Frank Allen, no co-owners of the name and the brand, emerged successful. The replacement was a young singer/guitarist from Frank`s hometown Hayes in Middlesex, Spencer James who had been with the British 'surf sound' group First Class. His youth and good looks attracted a whole new audience to boost the stalwarts who stayed loyal to The Searchers who had begun to develop an impressive show which presented the group`s history both in music and anecdotes, a formula which sets them apart from other groups of that era today.

There have been many highlights during their seemingly unending travels. These include:



Tours of America which saw them headlining over Motown legends such as Marvin Gaye, The Supremes, Smokey & The Miracles, The Temptations and many others.




Being presented to Queen Elizabeth 11 at The 1981 Royal Variety Performance.




Two sold out shows at Wembley Stadium in 1989 with a total crowd of 160,000 as guests of their friend Cliff Richard.




Marky Ramone sitting in on drums for Needles & Pins at New York`s Cutting Room in 2008 because The Ramones were keen Searchers fans.




They have performed for the British forces in The Falklands, Belfast and Bosnia where 2000 squaddies barely out of their teens honoured them with an emotional mass demonstration of the Wayne`s World bow while chanting "We are not worthy".
They have fans in high places such as Bruce Springsteen and Tom Petty who, when he chose Walk In The Room as one of his favourite British Invasion hits, added that he had to stop himself picking a bunch of Searchers tracks. The Byrds have stated that they were influenced more by The Searchers than by The Beatles and that without The Searchers there would have been no Byrds. High praise indeed.

The lineup today consists of stalwarts John McNally and Frank Allen aided and abetted by Spencer James, now virtually an old timer of over thirty years service, and 'new boy, Scott Ottaway on drums. Six years plus behind the drum kit to date.
The Searchers have toured constantly throughout their five decades and continue to play between 150 and 200 concerts a year across the globe. A six week tour of Australia where their reputation is very strong is an annual routine. Europe figures highly and there are very few territories they don`t touch. The Philippines, Germany, Israel, America, Canada, Denmark, Norway and a bunch of other countries fill their working schedule. And there seems to be no end in sight for an awful lot of ardent fans are very grateful indeed.