The Queens Hall Narberth is looking for new Trustees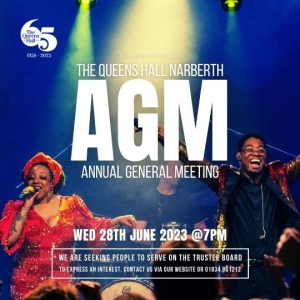 Would you like to join the happy team at the Queens Hall Narberth?
Would like to know more about becoming a trustee and ensuring the future of this legendary venue?
If so, why not come along to the AGM at The Queens Hall Narberth at 7pm on Wednesday 28th June or contact the manager Lara Herde on 01834 861212.
The Queens Hall was established in 1958. During the 1960s and 1970s, it gained a reputation amongst pop and rock fans for attracting some of the biggest names in the business who played to capacity audiences. Musicians such as Elton John and Status Quo, who have become household names. Since then the Hall has continued to promote international and local acts across the genres – from World Music, through Pop & Hip Hop, to Reggae & Acoustic, Country, Electronica, and beyond.
The Hall also hosts nights dedicated to theatre, film, spoken word, comedy, and even unique dining experiences where you can be waited on by the likes of characters from Fawlty Towers! Additionally, The Queens Hall offers a range of functions for public and private needs. Community events, workshops, conferences, exhibitions, trade shows, markets, craft fairs, parties and weddings are all held in the historic building.
"The beauty of art in the community is that it provides a way of displaying a freedom of expression that lifts the mood, provides an escape and maintains the well being of the people who enjoy it," says Trustee Chairperson, local businessman Ian Gravell, "so why not become part of the industry of human happiness and come and join us as a volunteer or trustee?"
The Hall is looking for enthusiastic people to become volunteers and for trustees who can bring organisational and leadership skills, experience in financial & facilities management, fund raising, and knowledge of the music & arts industries.
Manager Lara Herde says;
We are particularly keen to welcome applicants from sectors of the community that are currently under-represented to make our team more diverse. We are looking especially for women, young people, people with disabilities, Welsh speakers, people from ethnic minority communities and LGBTQIA+ individuals."
This is a great opportunity to develop your skills in a voluntary capacity, serve the community and, above all, have fun.
Interested? Come to the AGM, call 01834 861212 or contact us here